Champion Ford Sales Offers Genuine OEM Parts for Your Ford Vehicle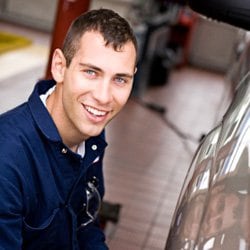 Sometimes, as your Ford car, truck or SUV gets older, they start losing a step. It's to be expected as any vehicle gets older. And that's okay, it doesn't mean your vehicle is past its prime. Sometimes they just need that one extra piece to get them up and running like new. At our Erie-based dealership, our parts department has one goal in mind: getting you high-quality OEM parts to increase the life of your Ford.
At Champion Ford Sales, whether you're looking for a quick grab-and-go piece or something for a larger project, we have what you need to get started.
You can request, through either our parts page or by contacting us directly, replacement Ford parts like rear-view mirrors, air filters, headlights, and taillights. You might be the type of person who likes to get their hands dirty and do all their own work. That's great! Our trained staff of experts are ready to get you the parts you need to help complete any project or regular maintenance you're working on.
How Do You Distinguish between Genuine Ford Parts and the Generic Ones?
Sometimes, you might be persuaded to go with the cheaper generic part to fix what ails your Ford vehicle. Genuine Ford parts come directly from the manufacturer and are used in the original production process. Just like at Champion Sales Ford, you get parts and accessories that were designed to go in in your Ford car, truck or SUV. With generic parts, you can't be sure where they were manufactured or with what measurements in mind. They will not last nearly as long as genuine parts and could potentially cause serious harm to your vehicle
You might be taking the risk of saving money in the short term only to pay more in the long term when the generic parts give out on you because they don't have the same care that genuine Ford parts have. That's not even close to worth the risk.
Whether you buy the parts to do the work yourself or schedule a service appointment to have our trained technicians do the work for you, if you're buying genuine Ford parts, your vehicle will thank you.