Treat Your Ford Model with Exceptional Care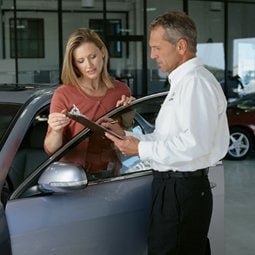 You just got a new car, and now you have the responsibility of taking care of it and making sure that it runs smoothly around Erie. Taking care of it is easier than you think thanks to Champion Ford and their outstanding service and parts center. Whether you have a used car or a brand-new Ford, we can take care of your vehicle no matter what the circumstances.
Our team is well over qualified to take care of what you need done to your car. There are routine maintenance and services to help your truck, SUV, or sedan to extend its lifetime on the road. It's easy to schedule and find a time that works for you. Putting your car first is necessary so you can drive to your desired destination when you need to travel.
Services Offered in Erie
Did the maintenance light just come on in your Ford Escape? Or does your Ford F-150 seem a little delayed when you press the brakes? Your Ford vehicle is something that we want to take care of and make sure it's in top shape. Our service experience will exceed all your expectations when you come in at your scheduled time and wait for us to be finished working on your car. While you wait, we have complimentary snacks and bottled water in our waiting area to make the time go by faster.
The type of service you need depends on a variety of factors that include, make, model, year, driving habits, typical road conditions, and even your environment. Our friendly team can help you in building a maintenance plan for your Ford car that works for your budget. You can chat with a Ford specialist at Champion Ford if you need repairs, off-schedule maintenance, or a model-specific service.
If there is a service, you're worried you can't cover, then look online at our service coupons and see what service you can get at a price you love. We have coupons that include brake pads to wiper blades to tire rotations and more. All you need to do is print I tour and bring it in once you've scheduled an appointment.
We are ready to take care of your Ford Explorer or Ford Mustang to keep you driving all-around North-East PA and Fairview. Our Ford SUVs and Ford Trucks are too powerful and comfortable to have them not be running. Our Ford vehicles, whether it's used or new, are reliable and capable of giving you off-road adventures around Waterford. We can make your satisfaction last longer with the following services
Oil changes
Brake repairs
Battery replacement
Tire rotation
A/C repair
Transmission service and repair
Detailing and interior cleaning
Engine diagnostics
Multi-point Inspections
Fluid flush or top-off
We use state-of-the-art equipment to diagnose issues, and our facility houses multiple service bays to deliver a faster and more efficient turnaround time. Our commitment to customer satisfaction is the foundation of everything we do, and that's why Erie and Fairview drivers keep coming back to our service center.
Schedule Your Service Appointment Online in Seconds
Your vehicles are our priority, and we are ready to meet you and help you be on your way to continue driving on the open road. You can use our service scheduler and fill out the specifications of your exact model, so we get a better idea about your car before you even come in. Or Contact us with a call or inquiry form. While we do keep a tight schedule, we'll do everything we can to schedule you as soon as possible.
We look forward to meeting you.